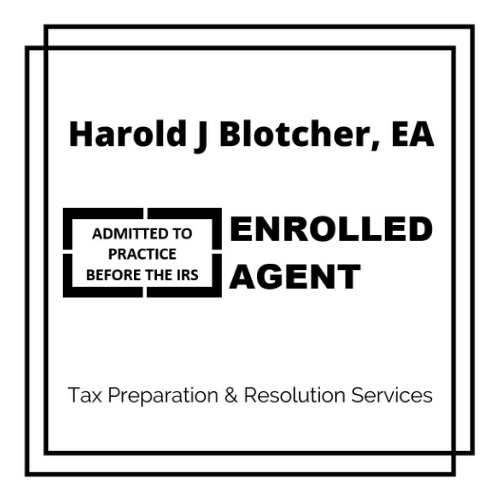 Our Approach
Enrolled Agents (EAs) are America's Tax Experts. EAs are the only federally licensed tax practitioners who specialize in taxation and also have unlimited rights to represent taxpayers before the IRS, offering tax resolution services, tax preparation services, and tax help. Learn More
Our Story
Enrolled agent status is the highest credential the IRS awards. Unlike CPAs who may or may not specialize in taxes, all enrolled agents specialize in taxation. CPAs are licensed by the states, but enrolled agents are federally licensed. This means that enrolled agents are not limited to practicing in the state from which they have received a license; they can practice anywhere in the United States..
Meet Harold J Blotcher
Harold J Blotcher is an Enrolled Agent, enrolled to practice and represent taxpayers before the Internal Revenue Service. He is a member of the National Association of Enrolled Agents.
Harold Blotcher
Enrolled Agents (EAs) are America's Tax Experts. EAs are the only federally licensed tax practitioners who specialize in taxation and also have unlimited rights to represent taxpayers before the IRS, offering tax resolution services, tax preparation services, and tax help.
KNOWLEDGE IS OUR COMMITMENT TO YOU

Our clients range from large organizations to everyday people. But they all know they can count on accuracy and timeliness each time they call Harold J Blotcher Taxes.